Tragedy Strikes UK Teenager on Lanzarote Holiday: Death After Fall from Hotel Balcony
David Alexander, an 18-year-old described as the "kindest young man," tragically lost his life during a trip to Spain. He fell from a hotel balcony in Lanzarote, in the Canary Islands, while on vacation with his family. Despite being rushed to the hospital, he did not survive. Local police are now investigating the incident.
David was a highly regarded student at Vale of Leven Academy in Alexandria, West Dunbartonshire, Scotland, where he won the School Base Champion Award in 2021, as reported by the Daily Mail. He had recently started a games development course at the City of Glasgow College.
Headteacher Matthew Boyle expressed deep sadness, saying, "David was a much-loved and respected winner of the School Base Champion Award 2021, who was popular with his peers and all of our teachers and support staff. David's family and friends are very much in our thoughts at this very difficult time."
Tributes have poured in for David, with friends describing him as "a beautiful boy" and "one in a million." He was known for his active involvement in the community, being a popular member of the social club Golden Friendships and a volunteer at West Dunbartonshire Community Foodshare (WDCF)."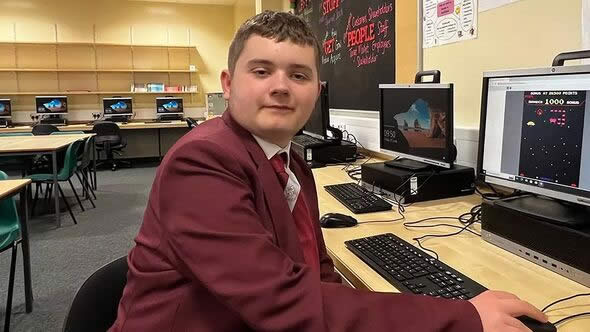 A fundraising raffle has been initiated by the Clydebank-based Golden Friendships group to support David's family. Jim McLaren, the group's founder, shared the sad news on social media and stated, "David was a very popular young man who loved being part of our club." They are raffling off two signed framed tops that once belonged to former football players Chris Sutton and Mark Hateley to raise funds for the family.
Heartbroken friends remembered David as a kind and happy young man. One friend said, "He was a great friend to have, he will forever be in my heart, and I'll forever miss him so much. He was one in a million, so young to have lost his life; it's horrible."
Another friend shared, "David was one of the nicest young men I have ever met. He was such a happy-go-lucky young boy. We all miss him so much at the Golden Friendships club. Love to all the family at this very sad time."
Clair Coyle, charity manager at WDCF, remembered David as a fantastic character who brought joy to everyone with his stories and humor during his time as a volunteer.
The City of Glasgow College expressed deep sadness over David's passing and offered condolences to his family and friends, with a promise of providing support to affected students.
The Foreign, Commonwealth, and Development Office (FCDO) confirmed their support for David's family and their contact with local authorities regarding the incident."