Trauma expert admits he regrets bombshell interview with Prince Harry about royals
Esteemed Hungarian-Canadian trauma specialist, Dr. Gabor Maté, recently expressed regret over his live interview with Prince Harry earlier this year, as stated by the Mirror. The conversation, part of Prince Harry's promotional events for his memoir "Spare," required viewers to pay a $33 (£27) fee. Intended as a profound discussion on "loving with loss and the necessity of personal healing," Maté now reflects on it with disappointment due to the unexpected backlash.
In the interview, Prince Harry opened up about his experiences growing up in the royal limelight, particularly focusing on the impact of losing his mother, Princess Diana. The dialogue aimed to shed light on the prince's personal challenges, offering a more relatable view of him, often misinterpreted by media portrayal.
However, despite the conversation's intended depth, Maté faced widespread criticism for facilitating it. The backlash took an emotional toll on Maté, known for his groundbreaking work on trauma and healing. Recently, he spoke about the degrading nature of the critiques he encountered and how they deeply affected him.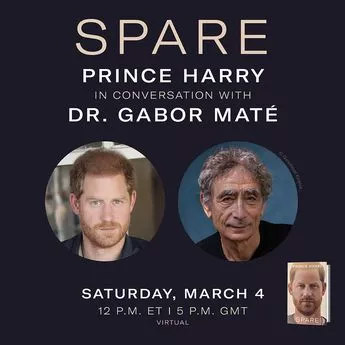 This incident underscores the persistent public fascination and divisive opinions about the royal family, with Prince Harry, and his spouse Meghan Markle, frequently in the limelight. Maté's experience emphasizes the intricacies of discussing the British monarchy. Even though the conversation aimed to address the significance of personal healing amidst trauma, it still invited harsh judgments.
The predicament highlights the delicate position public figures are often in, trying to maintain authenticity while navigating public sentiment. For Prince Harry, the chat with Dr. Maté was a chance to present his truths and emphasize emotional well-being. However, it also showcased the challenging terrain of public scrutiny.
Despite this setback, Dr. Gabor Maté, a respected name in trauma research, will undoubtedly continue his impactful work. Yet, the episode is a reminder of the delicate nature of discussions involving the British royals, with diverse viewpoints often leading to intense emotional responses.