'I felt guilty when my baby was born WITHOUT ARMS – but he's thriving and beats the odds every day'
Lindi Martin, a 40-year-old stay-at-home mom from Denver, Colorado, openly shares her feelings of guilt and heartache after her son, Hutt, was born without arms due to a rare genetic condition. Lindi and her husband Shane Martin, 48, were initially overjoyed to welcome their third child but were shocked to learn about Hutt's condition—thrombocytopenia absent radius syndrome (TAR).
This extremely rare condition, affecting only one in 250,000 children, results in bone marrow and limb growth issues. Hutt was diagnosed with no arm bone development, leaving his hands at his shoulders. In addition to his genetic condition, he also faces bilateral club feet and allergies, further complicating his health. Lindi recounts the challenges they faced in discovering Hutt's condition, emphasizing the lack of awareness about TAR, told Metro.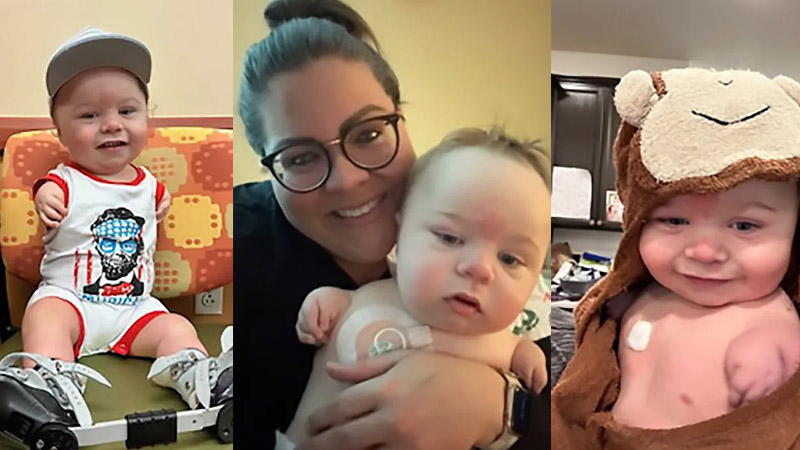 Heartbreakingly, Lindi and Shane learned that Hutt's condition is genetic, caused by both parents missing a tiny piece of a certain chromosome. Lindi expresses deep guilt, feeling responsible for her son's struggles and challenging life, describing it as a betrayal by her own body. Despite these emotional struggles, the parents are determined to provide Hutt with the love and support he needs.
Lindi highlights the societal challenges they face, with the likelihood of Hutt being talked about, made fun of, or picked on throughout his life. Despite this, the Martins focus on educating others about Hutt's uniqueness and emphasizing his incredible qualities.
While acknowledging the difficulties ahead, Lindi and Shane remain committed to empowering Hutt with the tools and resources needed for a fulfilling life. Lindi emphasizes their desire for Hutt to find happiness and pursue his dreams, expressing unwavering pride in their son. In her closing remarks, Lindi challenges the notion that a disability defines a person and emphasizes Hutt's profound impact as a beloved blessing to their family.