Amsterdam's Fashion For Good Spotlights Student Visions in 'News from the Future' Exhibit
Amsterdam's revered Fashion For Good Museum has unveiled an enticing new showcase spotlighting the visionary concepts of Dutch fashion neophytes and up-and-coming designers.
Titled 'News from the Future,' the exhibit delves into imaginative answers to the pressing question, "What might the future of fashion encompass?". Students from notable Dutch educational institutions like the University of the Arts Utrecht, Zadkine MBO, MBO Rijnland, and Saxion College have creatively addressed the impending challenges of fashion pollution, overconsumption, waterway contamination, and climatic unpredictabilities. This exhibition brings their visions to the fore using multimedia elements, garments, and installations.
Additionally, the museum partnered with national educational institutions to present 'Classroom of the Future: Unraveling the Cotton Tale.' Curated by Alyxandra Westwood, Yophi Ignacia, and other experts in the fashion sustainability realm, this educational initiative bridges the gap between vocational and higher vocational students, encouraging collaboration. Selected designs from this program have been integrated into the exhibit, drawing inspiration from the museum's prior 'Knowing Cotton from a Different Perspective' showcase.
This pioneering program's mission was to dismantle the divisions in the Dutch education spectrum, promoting inclusivity. As an invaluable resource, the 'Classroom of the Future' toolkit, focusing on the multifaceted world of cotton with a human and environmental lens, is available for free download from the museum's website.
Pioneering the exhibit's distinct aura, budding graphic artist Sara Biatchinyi was behind the exhibit's design. In another step to bridge emerging talent with the broader industry, Fashion For Good collaborated with the eclectic jewelry hub, Current Obsession, to co-curate a section underscoring sustainable evolution in fashion and jewelry realms. Besides the dynamic jewelry showcase updated weekly, attendees can also look forward to an art auction and insightful panel discussions on jewelry's trajectory.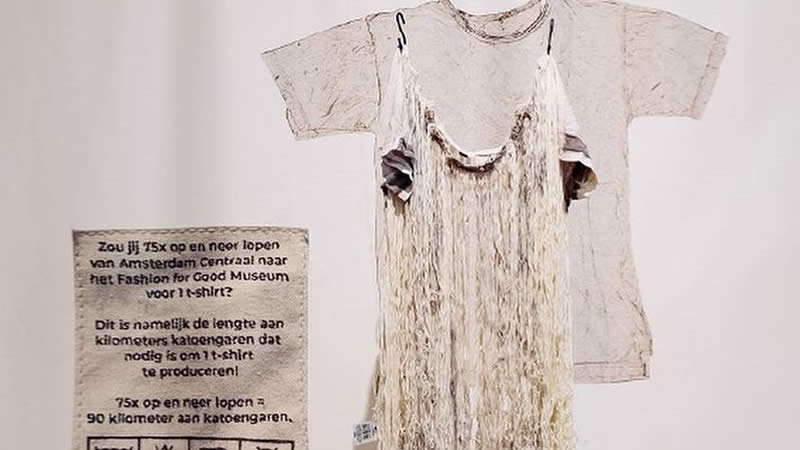 Kevin Paraiso, a standout designer, is also contributing to the exhibit with an inventive workshop. Showcasing his futuristic, eco-conscious 'Cosmic Summer Dolkrey' line, which made waves at Paris Fashion Week SS23, Paraiso's creations are a vibrant nod to the evolving fashion tapestry.
The 'News from the Future' exhibition, a haven for fashion aficionados and the curious alike, has been welcoming visitors since October 27, 2023.